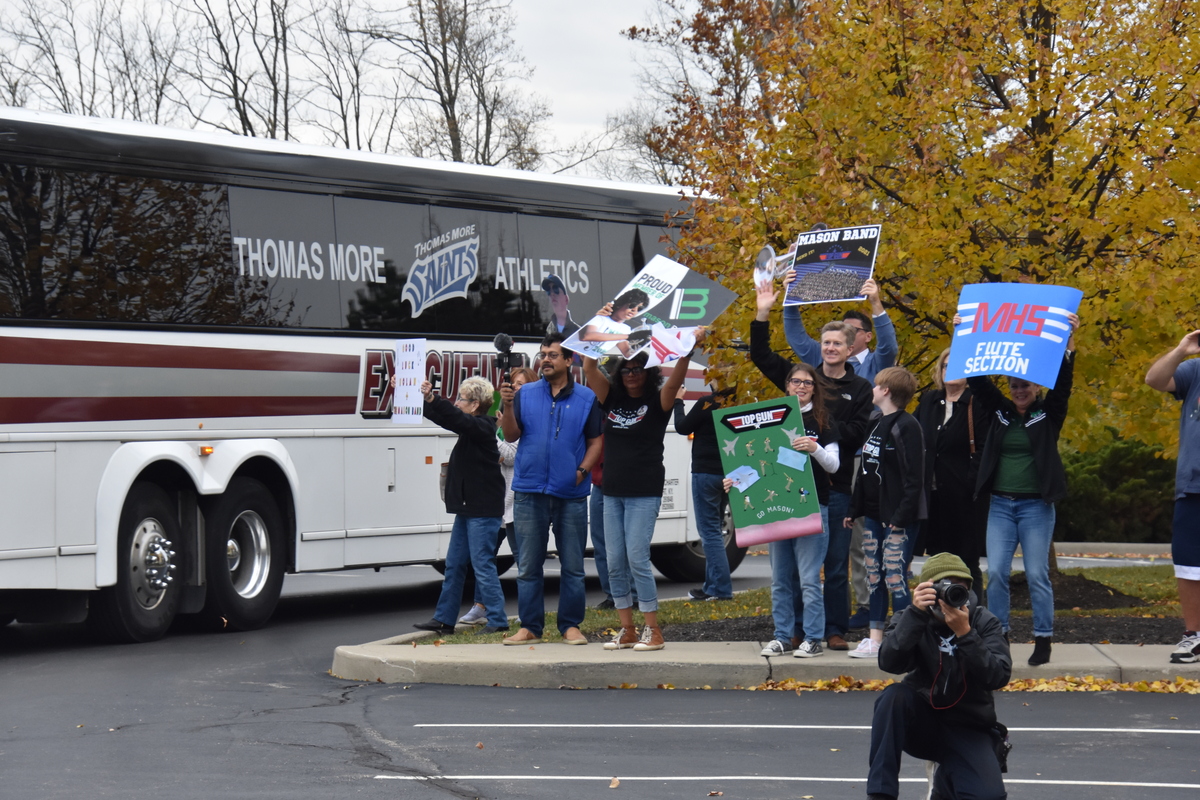 Marching Band 2022 Travel
Overview
We are looking forward to another wonderful year of amazing competitive and travel experiences with the William Mason High School Marching Band! Our marching band will be competing on two circuits this year: the local Mid-States Band Association (MSBA) circuit as well as two exciting Bands of American competitions complete with stays in a hotel, the Super Regionals and Grand Nationals in Indianapolis.
If you have any questions about travel, you may contact Shannon Wielinga at travel@masonbandboosters.com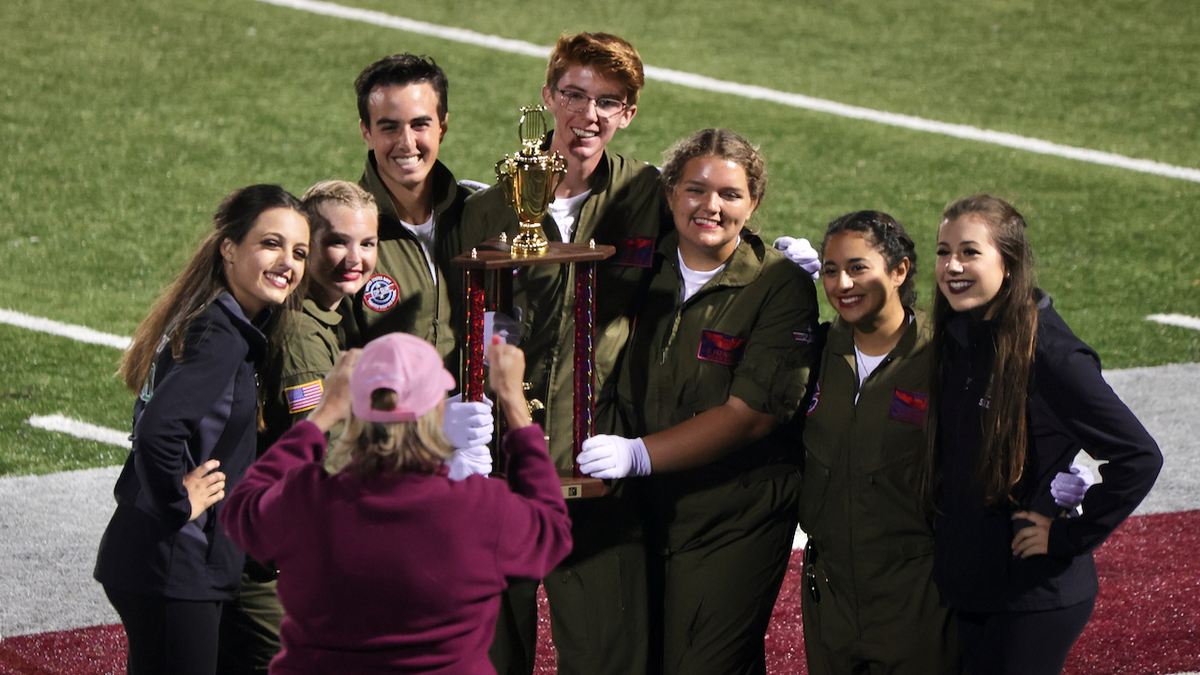 MSBA Lebanon, OH
September 24th, 2022
This Mid-States Band Association tournament is held at Lebanon High School in north of Mason. Students will be rehearsing at Mason before heading to Lebanon. They will travel by yellow bus to and from Lebanon and weather and performance time will influence the time students return to Mason. We will share the itinerary once Mason's performance time is finalized. Mason will perform once in the Open Class of this tournament.
We encourage family and friends to make the short drive to support the Marching Band at this competition.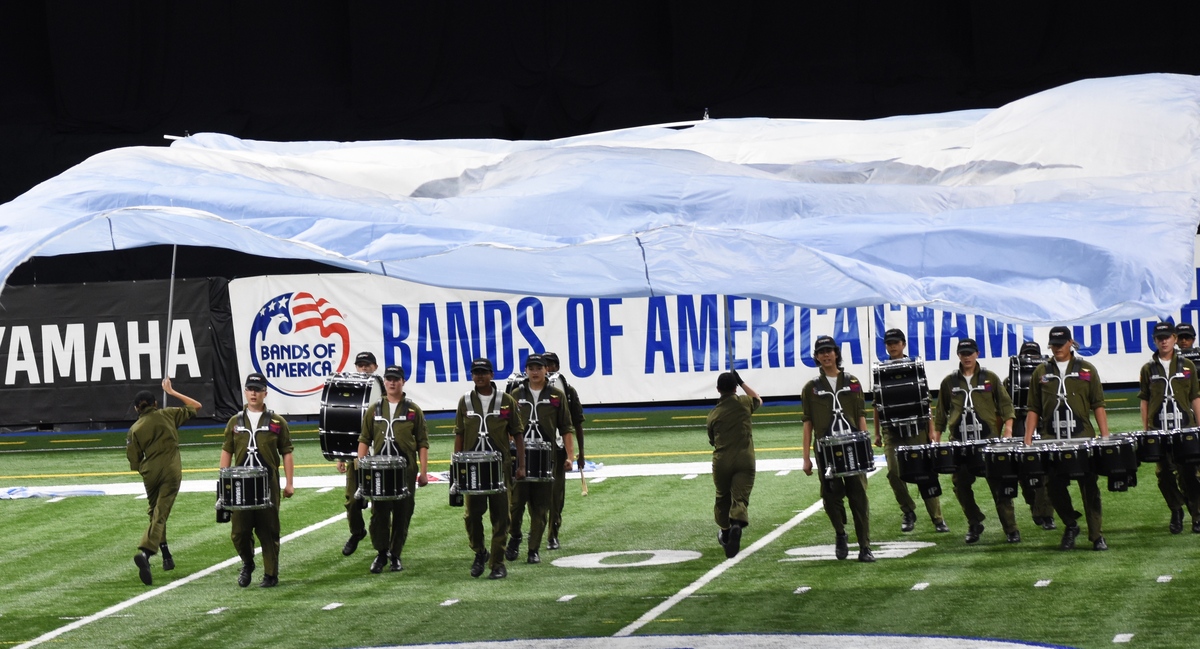 BOA Indianapolis Super Regional @ Lucas Oil Stadium
October 21 & 22, 2022
Bands of America Super Regional competitions are currently two day events. The Band will be traveling to Indianapolis the evening of Friday, October 21st and staying the night in a local hotel. On Saturday, students will rise and prepare for a 9:15am preliminary performance, then have some downtime or watch other bands at the competition and then hopefully preparing for a finals performance later that evening. This competition is composed of both a preliminary performance on Friday or in our case, Saturday morning (9:15am) and then pending the results, Mason will perform a second time in the evening in the Super Regional finals.
Students will travel by charter buses to and from Mason. Meals will be provided to sustain our musicians and guard members! Students are required to bring their water jugs to keep hydrated and are always welcome to bring along their own snacks.
Families can anticipate a late-afternoon departure on Friday, October 21st, arriving at the Hotel in the early evening. Students will arrive back in Mason on the charter buses around 2-2:30am Saturday night/Sunday morning. Please plan to pick up your students as they should not be driving, walking or biking home during those early morning hours for safety reason and to comply with curfew laws.
Parents are able to check their students out at the conclusion of the event if they wish to stay near the performance venue overnight or to transport their child home. Families will need to complete a simple online transportation waiver that will be shared in advance of the competition.
Please note, there will be a MANDATORY MEETING ON TUESDAY, OCTOBER 11TH AT 7PM AT MHS (LOCATION TBD). Please plan for at least one adult from each family to attend this meeting as we will be reviewing important information for our upcoming travel to Indianapolis!
We encourage family and friends to make the drive to the Indianapolis Super Regional to cheer on the band! This is a ticketed event and tickets may be purchased on the Bands of America website below.
10/22-BOA Super Regional Tickets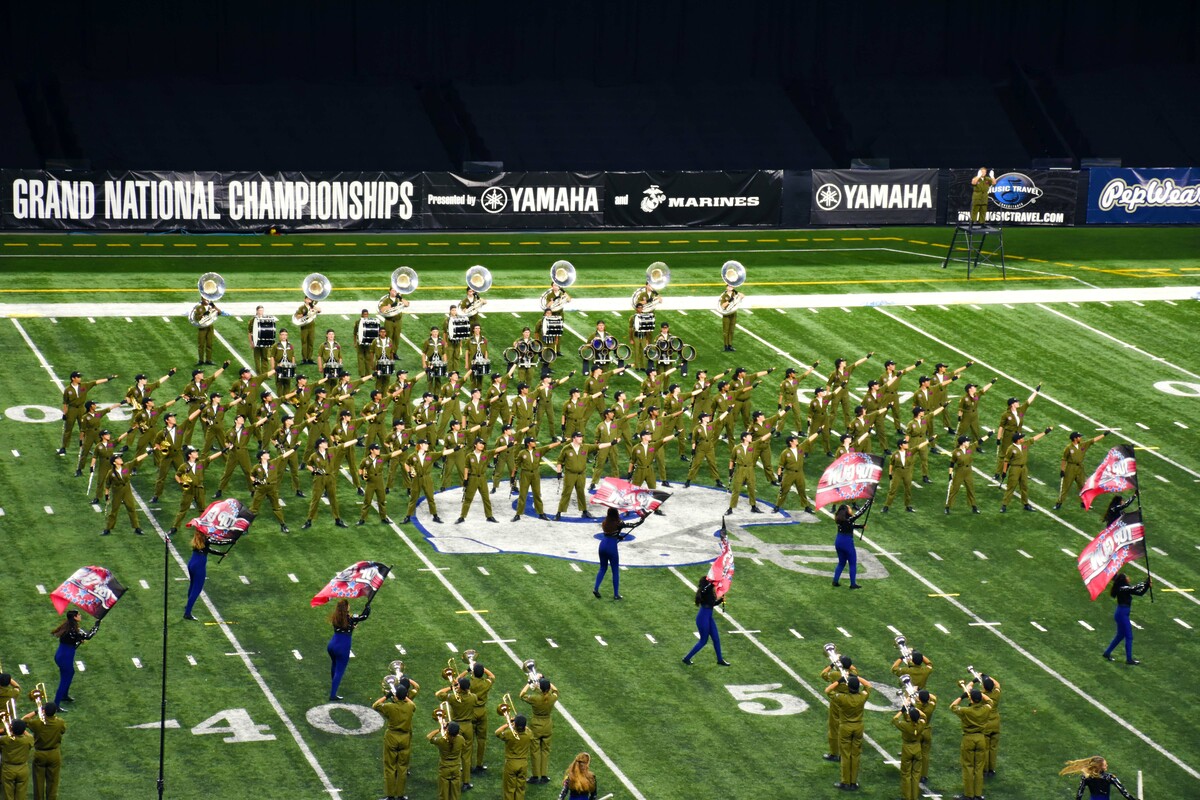 BOA Grand Nationals
Indianapolis, IN
November 10-13th, 2022
This Bands of America competition is the grand finale of our marching band season! Students will travel by charter bus round trip to and from Mason on Thursday to their preliminary performance at Lucas Oil Stadium. Our tentative performance time is 6:00pm Thursday, 11/10. Students, Directors and chaperones will return after the performance Thursday to Mason.
On Friday morning, November 11, 2022, the band will gather to rehearse then return to Indianapolis in the afternoon. The Band will stay two nights in Indianapolis. All meals will be provided on this trip. Students will be performing, rehearsing, watching other bands and celebrating a successful season throughout the weekend event.
Mason Band Boosters manage on-the-ground operations for this trip. Families are responsible for paying their student experience fee directly to Mason Band Boosters.
Performances and Tickets
This is a ticketed event and families and friends are encouraged to make plans in advance to see the band in action at Lucas Oil Stadium. There are two days of preliminary competition and we know Mason will perform Thursday, 11/10/22 at 6:00pm.
Pending scores, Mason hopes to perform a second time in the semi-finals on Saturday 11/12/22 during the day. Based on the results of the semi-finals, bands have the opportunity to perform in the finals Saturday evening.
PLEASE NOTE: Each round is a separate ticketed event! Mason's Preliminary performance is on Thursday, November 10th at 6:00pm. Any Semi-Finals or finals performance times will not be known until Preliminary competition has concluded. Tickets are now on sale and can be purchased using the link below.
11/10-11/12 BOA Grand Nationals Tickets
Making Travel Plans
Indianapolis is a busy place during Grand Nationals so families are encouraged to book hotels early if they plan to stay overnight. Any hotel within walking distance of the Lucas Oil Stadium is very convenient. There is parking around the stadium if you select a hotel outside of the downtown area.
The band is required to use the Bands of America Housing Bureau and will let families know when a hotel has been assigned to us. Typically Grand Nationals finals run until midnight and our students will stay overnight Saturday night and return to Mason Sunday morning (11/13). Parents who complete a transportation waiver in advance may check their students out after the finals performance at our staging venue near the stadium.