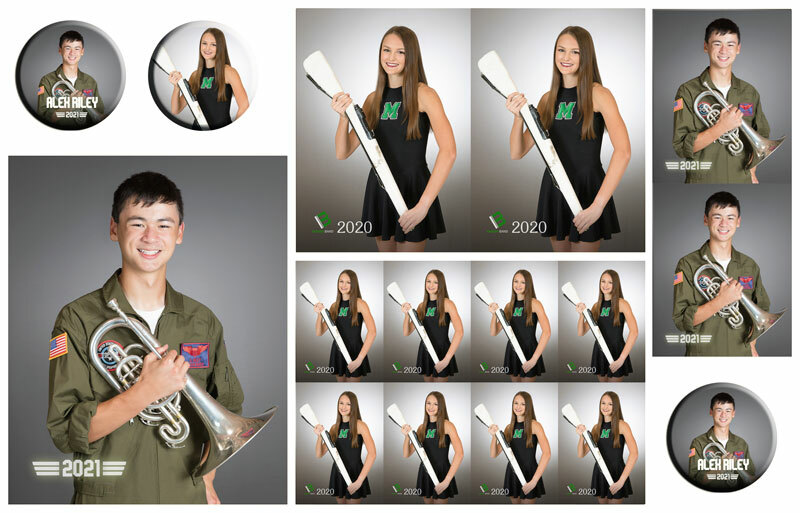 Professional Portraits - Wednesday Sept. 28th
Each year the boosters offers professional photos of our Marching Band students in uniform. You can order prints, buttons, ornaments, and more! Please see this flyer for all the details: Professional Portrait Flyer.
If you wish to purchase a package and sign up for an appointment, please click here: Order Form
Group Panoramic & Section Photos
The Marching Band Pano and Section photos will be taken on Saturday Sept 17th. Families may order these photos from the order form link above.
What to Wear for Individual Portraits:
All Marching Band students (instrumentalists and guard members) will be wearing show uniforms and should plan to arrive 15 minutes early for their appointment to dress.
Appointment Rescheduling:
If you need to reschedule your appointment, please send an email to photo@masonbandboosters.com with the new time you would like and we will try to accommodate you.
Cancellation & Refunds:
If you need to cancel your appointment, please send an email to photo@masonbandboosters.com. Refunds will be provided for appointments cancelled with 24 hours notice. If you cancel with less than 24 hours notice or do not show for your appointment, you will be charged a $10 sitting fee and refunded the balance of your order.
Illness:
If students are sick and cannot make their appointment due to illness and 24 hours notice is not feasible, you will receive a full refund if their appointment cannot be rescheduled.
All professional photo packages are optional. If you are not interested in ordering an individual portrait package and do not wish to order the annual Pano Full Band Photo or the Section Photo, there is no need to fill out the order form.
If you have any questions, please send an email to Photo@MasonBandBoosters.com