Mason Band Sponsorship Form: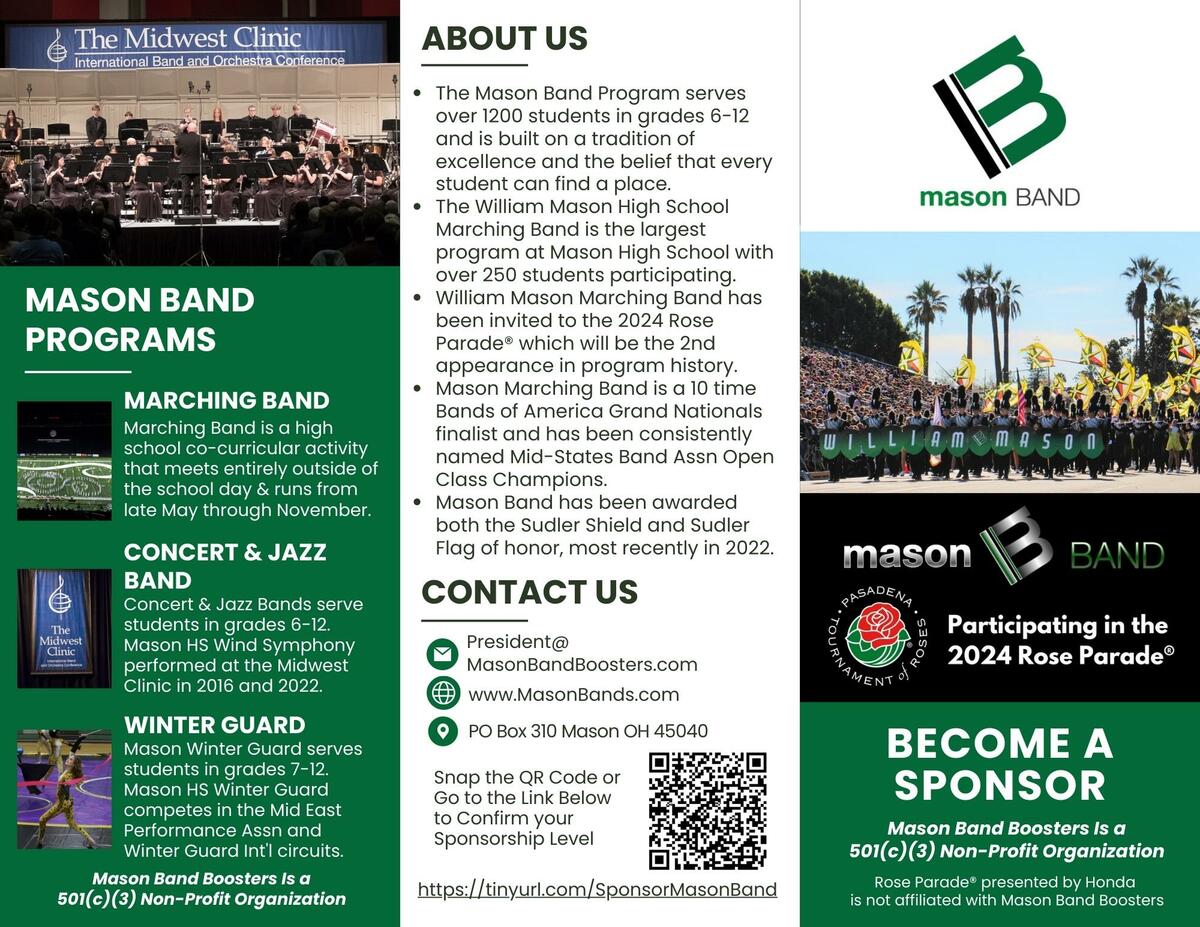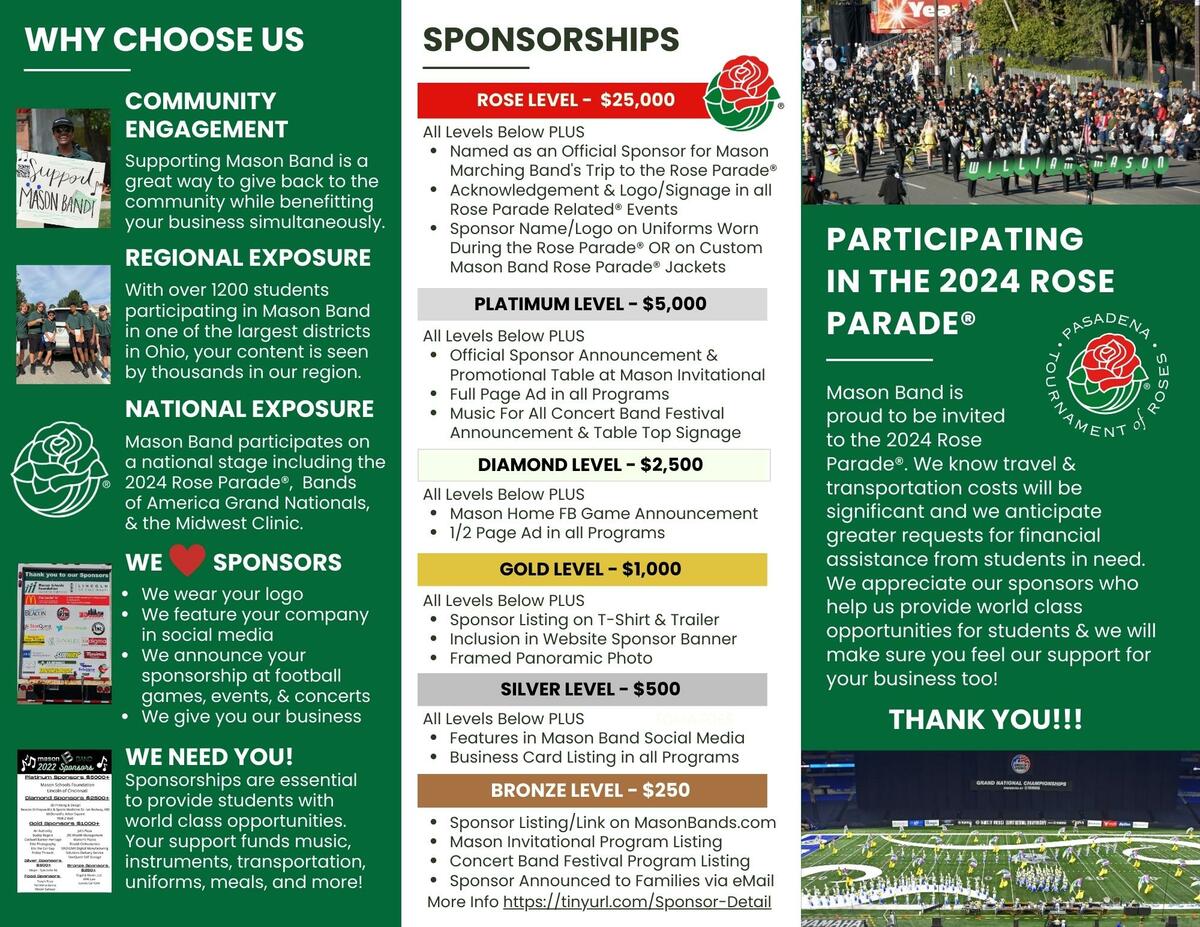 About Us
The Mason Band Program serves over 1200 students in grades 6-12 and is built on a tradition of excellence and the belief that every student can find a place.
Mason Band is one of the few programs in the world to receive multiple John Philip Sousa Foundation awards:

The Sudler Flag of Honor for excellence in concert band performance
The Sudler Shield of Honor for excellence in marching band performance, most recently awarded in 2022

The William Mason High School Marching Band is the largest program at Mason High School with over 250 students participating.
William Mason Marching Band has been invited to the 2024 Rose Parade® which will be the 2nd appearance in program history.
Mason Marching Band is a 10 time Bands of America Grand Nationals finalist and has been consistently named Mid-States Band Assn Open Class Champions.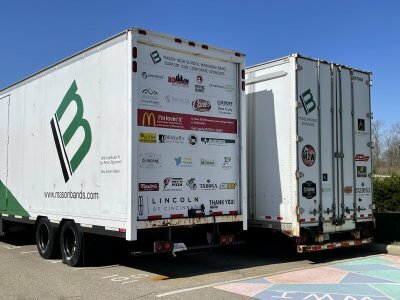 Why Support Mason Band?
Community Engagement
Supporting Mason Band is a great way to give back to the community while benefitting your business simultaneously.
Regional Exposure
With over 1200 students participating in Mason Band in one of the largest districts in Ohio, your content is seen by thousands in our region.
National Exposure
Mason Band participates on a national stage including the 2024 Tournament of Roses, Bands of America Grand Nationals, & the Midwest Clinic.
We Love our Sponsors
We partner with you to help promote your business and show our appreciation by

Wearing your logo
Featuring your company on our website, on our semi-trailer and in social media
Announcing your sponsorship at football games, events, & concerts
Giving you our business
We Need You
Sponsorships are essential to enable us to provide students with world class opportunities. Your support funds music, instruments, transportation, uniforms, meals, and more! Music programs provide a creative outlet for students with many benefits to their social, emotional and intellectual well-being.
2023 Sponsorship Levels and Benefits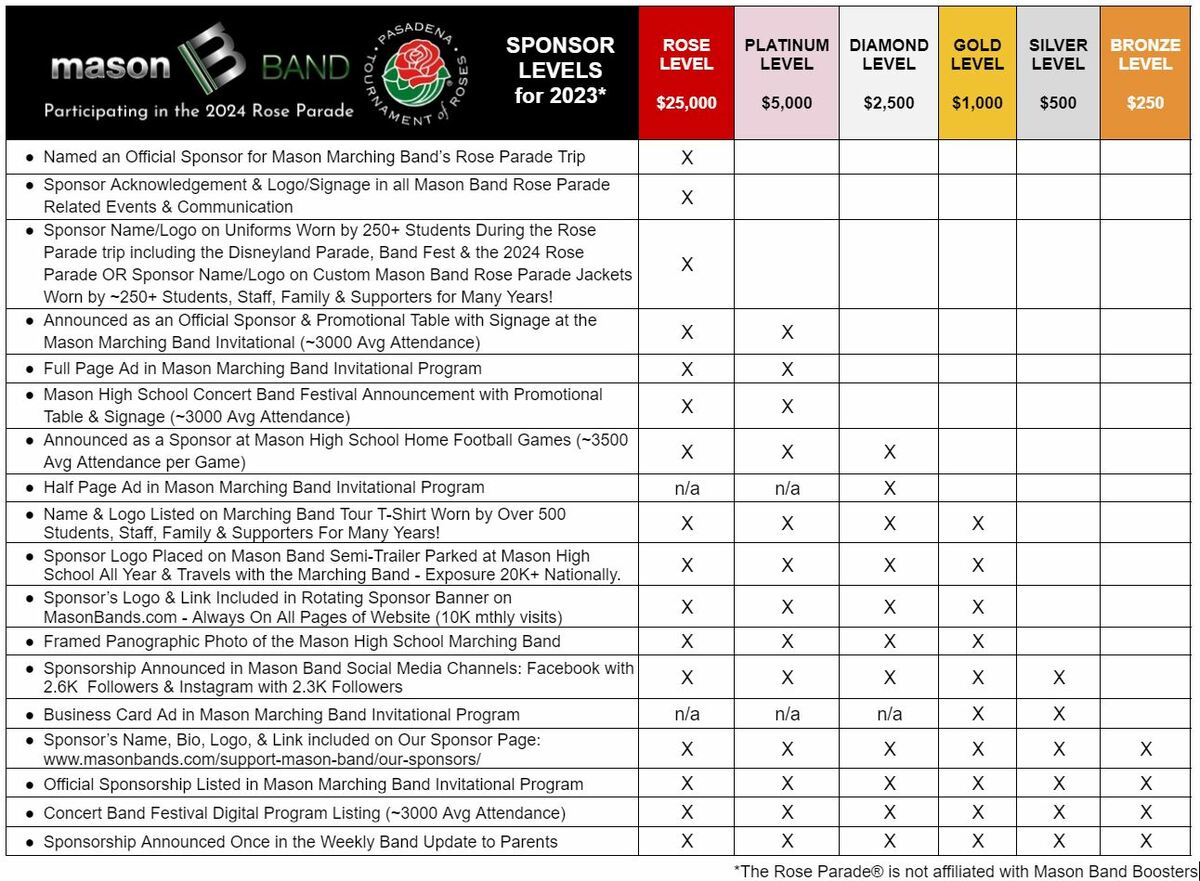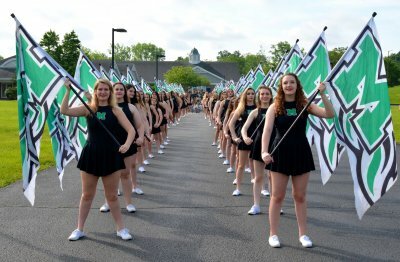 ---
Here is how you can help!
Make a CASH or IN-KIND* donation
*An In-kind donation being the equivalent donation in product, food or services.
Additional Support Opportunites
Feed the Band: The ability to provide meals, snacks, water or discounts to offset the expense of feeding the students.
Dine & Donate: Your business is promoted on our social media sites and to the student population at MHS to dine at your establishment on a selected date, and a percentage of proceeds are returned to our organization. A 'win/win' scenario increasing business on a 'slow night'! This could work for any retail establishment.
Host your space: Provide the ability to utilize your location to host events, advertise our fundraisers, etc.
Have another idea?: Let's get creative to promote your business together with Mason Band.
Yes! I want to become a Mason Band Corporate Sponsor!