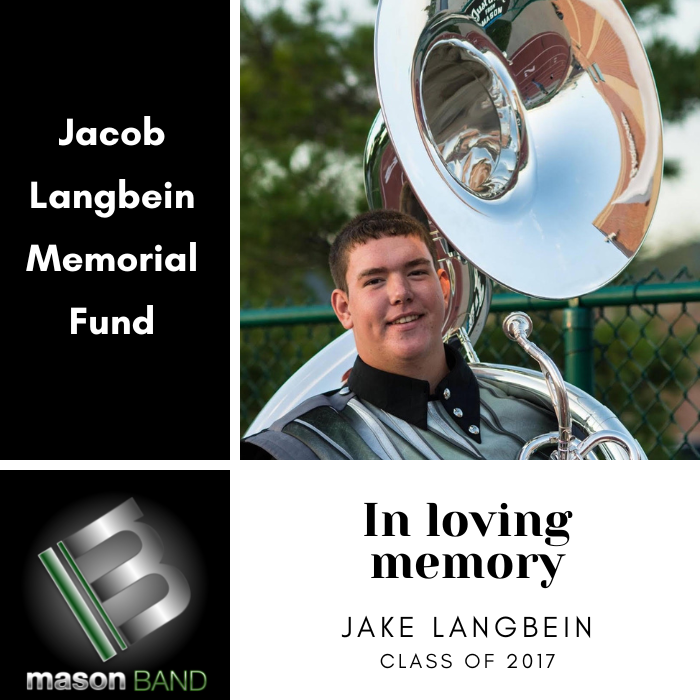 In Memory of Jacob Langbein
Memorial Donations
Click HERE to Donate Now
Jake Langbein, class of 2017, loved music and loved his time participating in Mason Marching & Concert Bands. In honor of Jake's love and connection with Mason Band, the Jake Langbein Memorial Fund was established by his family with Mason Band Boosters to provide scholarships for band students in need and mental health initiatives for the Mason Band program. If you would like to donate to the Jake Langbein Memorial Scholarship Fund, you can send a check (details below) or donate online at the link above.
Letter from Jake's Mom
Hello Mason Band Alumni and Alumni Parents !
My name is Crystal Langbein. I am an alumni parent of Jake, class of 2017 and Zach class of 2021 as well as a former Booster Board member and Band Aid. I am reaching out to you asking for your help with a cause I am passionate about..
My oldest son, Jake, marched his junior and senior year of high school while participating in concert band all 4 years of high school. Jake's first year with the marching band was 2015-2016, the first time Mason went to the Rose Parade! What an exciting time it was to be a first year marcher with Mason Bands!
Band helped Jake through a difficult time of depression in high school. Unfortunately, on May 24, 2021 Jake lost his will to fight his depression and took his own life. As a family we will forever be grateful for the friends and family Jake, and the rest of us, have made through the band family. When Jake passed we knew we wanted to give back and help others, just as Jake always helped others. With that in mind, and the fact that Jake was allergic to flowers, we asked friends and family to donate to the Jake Langbein memorial fund we set up with the band in lieu of sending flowers.
The funds donated in Jake's honor are only used for providing mental health training for students and staff, or for scholarships for students who might not otherwise be able to participate in marching band. We as a family understand how important this training is for both students and staff, and that this is training that needs to continually happen, not just one time.
With the Mason Band heading back to the Rose Parade in 2024 my family feels it is very important to think about the mental health of students, staff and volunteers during the trip. In speaking with the directors they agree that it would be helpful to send a member of the high school counseling staff who has extensive training with mental health circumstances to be on hand during the trip, in addition to the mental health training being provided to the students and staff.
For those who went on the trip in 2016 you know that while this is a life changing trip, it is also very busy, at times stressful, and can be overwhelming for some students especially if they've never traveled away from home/family for this length of time. Having a high school counselor who students are familiar with and who has the experience to help with mental health and anxiety would be invaluable.
How can you help?
The month of May is mental health awareness month, as well as it was the month of Jake's birthday. Our family would like to ask each of you to consider making a donation to the Jake Langbein Memorial Fund HERE.
All funds donated to this memorial during the month of May will go towards the cost of providing extra mental health training and resources to the band, such as helping the boosters with the cost of sending a high school staff member on trips such as Grand Nationals and the Rose Parade this year and hopefully in years to come. Any funds donated above those costs for this year will be used for scholarships for students in need so every student has the opportunity to attend the Rose Parade.
I am challenging those who went to the Rose Parade in 2016 to see which class, 2016, 2017, 2018 or 2019 can donate the most since you were able to experience the trip first hand and know what a great experience these students and staff will embark on come December!
Also, at this time the boosters are 'refreshing' the alumni list so please take a moment to click HERE if you would like to continue to receive alumni emails from the band.
THANK YOU for your donations and don't forget to watch the band January 1, 2024 as they make Mason Proud!
Donations via Check:
Mason Band Boosters
PO Box 310, Mason, OH 45040
Please note Jacob Langbein Memorial in memo line